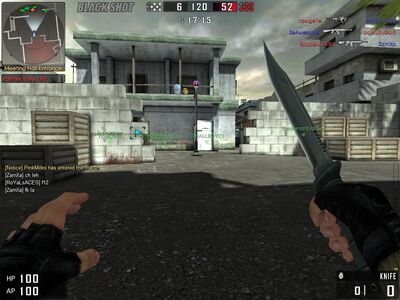 Description
Edit
Your basic issue knife.When everything else fails,your knife will never run out of ammo!
Statistics
Edit
Damage: 5.3
Fire Rate: 6.4
Weight: 0
Magazine: 0
Accuracy: 10.0
The basic knife is a default weapon which means it can be used forever.This is best used when you have critically damaged an enemy and run out of ammo,you can use the knife to dish out the damage needed to finish him.
Tips:
Switching to the knife makes you run faster.
Aim for the head for a one-hit kill.
Use it only when panicking.
Purchasing
Edit
The Basic Knife is a default weapon,thus it cannot be bought.